Necklaces are believed to be one of the first types of adornments humans chose to wear and have been worn for a variety of reasons over millenia. Nowadays they are usually considered a beautiful and fun way to complement an outfit or even to express one's personality.
But with such a large
range of necklace lengths
to choose from, how do you choose one that will suit your outfit, personal style, body shape and practical needs?
1. Measurements
The first and most important step is to measure your neck circumference and length carefully. Neck circumference is the really important one, as you don't want to end up purchasing a necklace that leaves you feeling like you're suffocating.
If you love wearing choker-style necklaces, add approximately 5 cm/2 in to your neck circumference for a comfortable necklace. For the versatile average length necklace, adding approximately 10 cm/4 in to your neck size to give a good length.
(Image credit: https://bit.ly/2PN8GJ3)
Another neck measurement to consider is your neck length. While I'm all for wearing pieces you love no matter your size or shape, taking into account which styles look best for your neck shape can take a necklace from simply pretty to beautifully flattering.
Choker and collar style necklaces are more suited to longer, slender necks, while thinner chains and longer necklaces are generally more flattering for wider and shorter necks.
(Image credit: https://bit.ly/2PfL12X)
2. Body size and shape
As with my comments regarding neck length and width, matching necklace lengths to your body and face shape are general recommendations only. If you can pull off a necklace style that might not normally suit your size or shape, then go ahead and wear it! And likewise, don't feel you have to follow the latest necklace trends if you know the style is unflattering on you.
Those who are on the shorter side (160 cm/5 ft 4 in or shorter) may find that long and chunky necklaces look overwhelming on their smaller frames, while long necklaces can accentuate and complement the height of those lucky enough to have it (175 cm/5 ft 9 in and taller).
Necklaces can emphasise your figure in all its glory, so if you don't want to highlight certain areas, then avoid necklaces that will draw attention to them.
For example, long necklaces that fall around the bust area may not hang properly on those with fuller figures. Instead, choose a necklace that will sit higher up on the neckline, approximately 45-55 cm/18-22 in long. And conversely, long and layered necklaces will flatter the figure of those with smaller busts and/or slender necks.
3. Clothing
The perfect necklace length to wear will also depend on your outfit for the day. Shorter necklaces such as chokers go beautifully with open neck clothing, but do not sit well with high necked outfits or turtlenecks.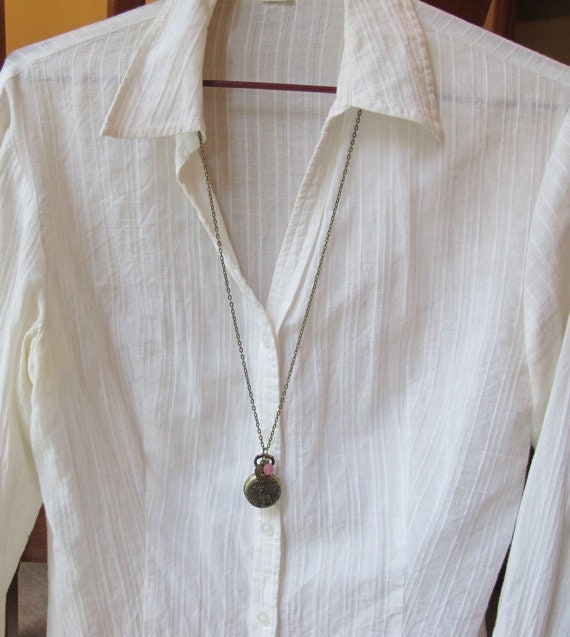 High neck outfits are beautifully complemented by long chains and opera length necklaces (26-35 in/65-90 cm long), and long strands of pearls or gorgeous glass beads look especially flattering with evening dresses and gowns.
So let me know in the comments below, what is your favourite necklace length to wear?